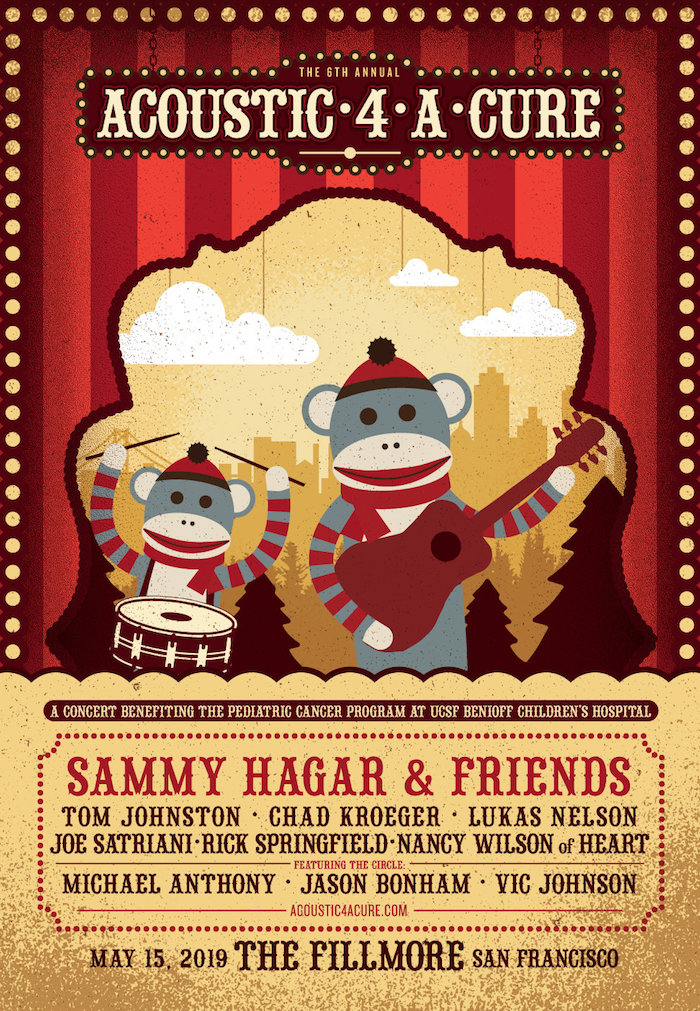 2019 Acoustic-4-A-Cure Concert
SAMMY HAGAR ANNOUNCES SIXTH ANNUAL "ACOUSTIC-4-A-CURE" BENEFIT CONCERT MAY 15 AT THE FILLMORE IN SAN FRANCISCO
ARTISTS JOINING HAGAR INCLUDE: TOM JOHNSTON (The Doobie Brothers), CHAD KROEGER (Nickelback), LUKAS NELSON, JOE SATRIANI, RICK SPRINGFIELD, NANCY WILSON (Heart) & THE CIRCLE: MICHAEL ANTHONY, JASON BONHAM, VIC JOHNSON
Note: Lukas Nelson was sick and could not travel & Bob Weir stepped up to fill in.
SAN FRANCISCO, March 18, 2019 — Sammy Hagar today announced the line-up for the sixth annual "Acoustic-4-A-Cure," benefit concert on May 15 at The Fillmore in San Francisco. Artists performing at Acoustic-4-A-Cure VI include (in alphabetical order): Tom Johnston (The Doobie Brothers), Chad Kroeger (Nickelback), Lukas Nelson, Joe Satriani, Rick Springfield, Nancy Wilson (Heart) and Sammy Hagar & The Circle, featuring Michael Anthony, Jason Bonham and Vic Johnson. Acoustic-4-A-Cure is a concert benefiting The Pediatric Cancer Program at UCSF Benioff Children's Hospital.
Tickets will go on sale Friday, March 22 at 10AM PDT at https://concerts1.livenation.com/event/1C005667C67C5D17 . There is a 4-ticket limit per customer. Every ticket purchased will include one (1) CD copy of Sammy Hagar & The Circle's new album Space Between. Customers who redeem the CD will also receive a digital copy of Space Between. Ticket purchasers will receive instructions on how to redeem their copy that will be mailed to them on May 10th.
Now in its sixth year, Acoustic-4-A-Cure has quickly become one of the year's hottest tickets, with legendary artists performing acoustic sets, epic collaborations and impromptu jams from the stages of intimate and storied San Francisco venues like The Fillmore. The benefit was created by Bay Area rock legends Sammy Hagar and James Hetfield, whose vision was to raise needed funds and awareness for the pediatric cancer research by throwing a must-see concert for fans and donating all of the proceeds to UCSF Benioff Children's Hospital. In past years, artists including Billie Joe Armstrong, Pat Benatar & Neil Giraldo, Jerry Cantrell, Kevin Cronin, Melissa Etheridge, Mick Fleetwood, Dave Grohl, Sammy Hagar, James Hetfield, Vic Johnson, Tommy Lee, Taj Mahal, Sarah McLachlan, Pat Monahan, Linda Perry, Chad Smith, Adam Sandler, Joe Satriani, Bob Weir, Nancy Wilson, and more have performed remarkable sets.
Acoustic-4-A-Cure "delivered on its promise of once-in-a-lifetime musical moments, duets, jams and surprise guests" - Rolling Stone
"From the moment the doors opened at the venue... more than anything else it felt like a great big party among friends." - The San Francisco Chronicle
About UCSF Benioff Children's Hospital
UCSF Benioff Children's Hospital creates an environment where children and their families find compassionate care at the forefront of scientific discovery, with more than 150 experts in 50 medical specialties serving patients throughout Northern California and beyond. The hospital admits about 5,000 children each year, including 2,000 babies born in the hospital. http://www.ucsfbenioffchildrens.org/
About UCSF Medical Center
UCSF Medical Center is recognized throughout the world as a leading academic medical center that provides innovative treatments, uses advanced technology, fosters collaboration among clinicians and scientists, and employs a highly compassionate team of doctors, nurses and staff. http://www.ucsfhealth.org/
Media contacts:
For Sammy Hagar/ Acoustic-4-A-Cure:
Hannah Kampf, hannah@kampaignpr.com

For Live Nation:
Ashley Graham, ashleygraham@livenation.com